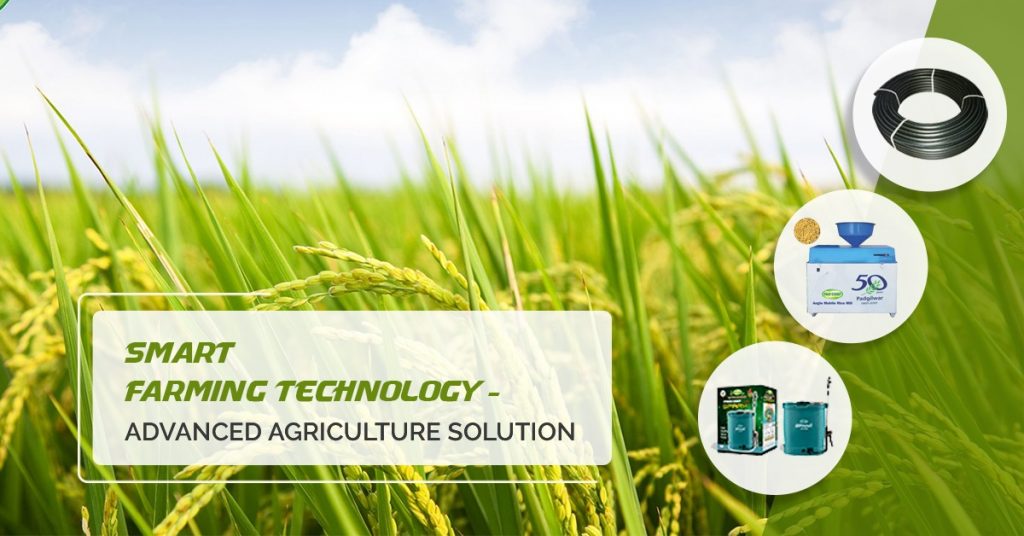 Adoption of smart technology has grown widely and has deeply penetrated in our devices from health and fitness, home automation, automotive and logistics, to smart cities and industries.

Smart Farming is acceptance of this technology that could find its application in agriculture and tremendously improve many facets of the farming practice. Farming has gone through a number of technological transformations in the last few decades and has become more industrialized and technology driven. Moving to smart agriculture equipment farmers have gained better control over the process of raising livestock and growing crops, making it more predictable and efficient.

This amalgamation of technology and traditional farming methods is what we can call a Smart Farming Technology. There is a very dynamic market of smart agricultural solutions. We at Padgilwar Corporation are working towards the benefits of farmers by providing them with smart equipment which will transform the agriculture sector and make it more efficient.

We strongly believe in our solutions and have a range of 387 different equipment for agriculture advancement. Our machines are capable of bringing a substantial extra income into the farmers' life.

Some of our achievements in providing technological solutions for the benefits of farmers are

Battery operated Sprayers

First battery operated sprayer was introduced by us to the farmers in India. It has been proved to save substantial cost, time and has offered ease of operation. These sprayers are 30% more economical than conventional hand operated sprayers. Due to their light weight and greater coverage due to high pressure built by battery operated motor, these devices gave technological advancement to the farmers to spray over large areas of fields with less energy consumed as compared to hand pumping. They have helped the farmers to a great extent to produce better quality crops without pest damage.

Mobile Rice mills

We successfully innovated a small-scale mobile rice mill that can be transported easily from village to village and run on basic electricity. Introduction of this agricultural device gave various benefits to the people of rural India, during natural calamities like excessive rain, heat or floods. This innovation has deeply impacted the farmers; however, its greater benefit has reached to the women of rural areas. The mobile rice mill gave advantages like easy operation, saved time, ensured food security in rural areas, higher earning due to processed rice at doorstep and saved agriculture land where conventional rice mill could have been set up. It also aggregated self-employment to people in rural areas who teach fellow farmers regarding the functions of mobile rice mill.


HDPE Flexible pipes

High density polyethylene (H.D.P.E.) is a flexible plastic pipe used to transfer fluid and gas at high pressure. We revolutionized the irrigation of farms by introducing these H.D.P.E. flexible pipes. These pipes are made of high-quality plastic and can sustain for more than 100s of years as compared to its counterparts made of metal or concrete. Due to its flexibility and durability, it can withstand all weather conditions and reach each area of the farm easily for spraying water.

Hybrid cotton seed production program

Cotton is a major fiber crop of great global significance. India has the largest area under cotton cultivation in the world (9.1 million ha.) and grows all four cultivated species.
We introduced 'Hybrid cotton seed production program' to the farmers of Gujarat. Gujarat is one of the highest cotton producing states in India, introduction of hybrid cotton seeds increased the yield by 50%. The cotton plant cultivated through these hybrid seeds were better resistant to plant diseases and produced better quality cotton for commercial purpose. This turned out to be a great advantage for the farmers economically.


Padgilwar Corporation over last six decades has developed a deep association with small farmers and established distribution centers in rural areas to reach each and every farmer with their smart agricultural equipment. They have been well associated with the following organizations for the upliftment of agricultural technology in India:
– Ministry of Agriculture, Government of India

– The World Bank, Washington, D.C., United States
Agricultural Universities, India

– State Government – Maharashtra, Karnataka, Andhra Pradesh, Jharkhand Krishi Vigyan Kendras (KVK) India

– Maharashtra Agro Industry Development Corporation (MAIDC) Maharashtra Agricultural
Competitiveness Project (MACP)

– Agricultural Technology Management Agency (ATMA)

– Self Help Groups (Bachat Gats)

– BAIF (Agriculture NGO)

– MOIL (Manganese Ore India Ltd)

– Small Farmers (The most important stakeholder)


Advanced agricultural solutions are a need of the hour and we strive to provide with the best with our team of expert and experienced professionals. Check our website www.padgilwarcorporation.com for our complete range of products.